Current Lab
---
---

James W. Pennebaker
James W. Pennebaker is the Regents Centennial Professor of Liberal Arts. He and his students are exploring natural language use, group dynamics, and personality in educational and other real world settings. His earlier work on expressive writing found that physical health and work performance can improve by simple writing and/or talking exercises. His cross-disciplinary research is related to linguistics, clinical and cognitive psychology, communications, medicine, and computer science. His current position with Project 2021 involves rethinking undergraduate education at the University of Texas. Author or editor of 9 books and over 250 articles, Pennebaker has received numerous awards and honors.
See also:
---
---

Kate G. Blackburn
Kate is an Oak Ridge Institute for Science and Education Post-Doctoral Fellow in the Department of Psychology at the University of Texas at Austin. Her research explores the perceptual and behavioral processes of language use reflected in people's stories and social interactions online. Her recent research has examined language use in breakup stories, food themes communicated within online communities, relational behaviors on social networking sites, and deceptive health messages related to absenteeism. This research appears in the Journal of Social and Personal Relationships, the Journal of Language and Social Psychology, and Health Communication.
See also:
---
---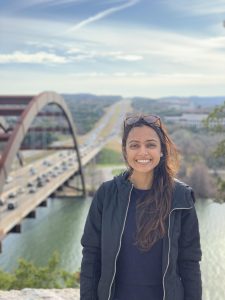 Miti Shah
Miti Shah is a PhD student in the Pennebaker Language Lab at UT Austin. She is an international student from India, where she completed her Bachelors in Psychology and Masters in Clinical Psychology before moving to the US to pursue a career in Social Psychology. Her research interests broadly include persuasion, prosocial behavior, collective action and group dynamics. Some of her current projects are focused on understanding what motivates people to engage in collective action for issues such as climate change, women's rights, etc. Most of her research involves looking at people's use of language on social media (such as Reddit) to understand the underlying psychological mechanisms in people's willingness to engage in collective action. 
Besides research, Miti loves to cook and explore new recipes. She organizes programs and events for international graduate students at UT and also volunteers at an animal shelter in Austin. 
---
---

Serena Brandler
Serena Brandler is currently a PhD student in the Social Psychology area at the University of Texas at Austin. She graduated from Rice University with majors in Cognitive Science, Psychology, and Linguistics. She explores questions centered around authenticity (e.g., what language profile makes someone appear more or less authentic and how does that impact who we hire, vote for, etc.) and how social inequities are communicated and perpetuated through language. In her free time she likes to read, draw and foster cats.
---
---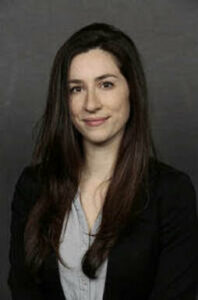 Pelin Cunningham-Erdogdu

Pelin Cunningham-Erdogdu is a Ph.D. student of Social Psychology at the University of Texas at Austin, studying under the mentorship of Dr. Pennebaker and Dr. Swann. She holds an International Relations B.A. from the University of Texas at Arlington and a B.A. in Psychology from the University of Houston. Her research interests include dehumanization, humor, and political psychology. She is currently examining the relationship between comedy and social and political action. Pelin likes to wander around museums, read movie scripts, and eat great food with great friends.
---
---
Previous Lab Members

Ashwini Ashokkumar
Ashwini Ashokkumar got her PhD in Social Psychology at UT Austin in 2021, co-advised by Bill Swann and Jamie Pennebaker. She is currently a Post Doctoral Fellow at the Polarization and Social Change Lab (PASCL) at Stanford University directed by Dr. Robb Willer. She is interested in exploring the psychological processes that drive behaviors of people who are strongly connected to (i.e., those whose identities are "fused" with) a group. She is specifically interested in the negative consequences of identity fusion, including polarization, conflict, and violence. Her research also explores gender violence that stems from notions of honor. In pursuing these questions, she tries to complement traditional methods with relatively novel methods such as analyzing language that people use in natural settings.
See also:
---
---

Sarah Seraj
Sarah Seraj graduated with her PhD from the Pennebaker Language Lab in Fall 2021. Her research uses language to understand the effect of both personal and collective upheavals on people's well-being. She is the co-founder and Chief Technology Officer at A Better Force, where she uses her research to empower people in both their personal and professional lives.
See also:
---
---

Ryan L. Boyd

Ryan L. Boyd was a graduate researcher, then postdoctoral fellow, in the Pennebaker Language Lab. Originally from Indiana, Ryan pursued psychology as his "backup" interest after repeated rejection from wizardry schools. He is currently an Associate Research Professor of Computer Science at Stony Brook University. He is still pursuing wizardry as an backup option.
See also:
---
---

Kayden N. Jordan

Kayden is now Assistant Professor of Social Analytics at Harrisburg University of Science and Technology. They graduated with her PhD in Social and Personality Psychology in Summer of 2020. Before doing their PhD at UT Austin, Kayden completed a Masters of Science in Experimental Psychology at Missouri State University. Their interests include political language, online search behavior, big data, moral psychology, and research methodology. Kayden contributes to the Wordwatchers blog and has been featured in the Wall Street Journal and Washington Post.
See also:
---
---

Mohini Tellakat

Mohini graduated with her PhD in Social and Personality Psychology in Summer of 2020 and is now the Director of Business Intelligence at Talent Care. She is interested in the ways individual behaviors interact to form differing group dynamics and enjoys exploring this concept in video gaming communities through the lens of language and big data analysis. Mohini received her B.A. in Computer Science and Cognitive Science and was previously a software engineer in Seattle, WA.
In her spare time, you can find her exploring the intricacies and beauty of individual differences through photography and portraiture, working or socializing at coffee shops, playing video games, or hanging out with her lovely cat, Mara.
See also:
---
Lab Photos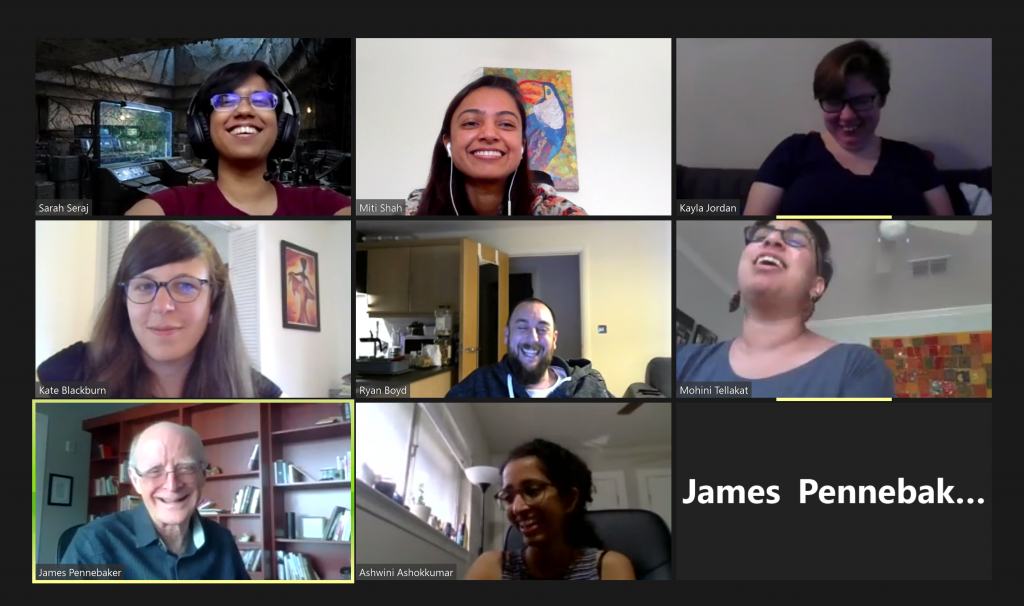 2020 (COVID times!)

L-R, T-B: Sarah Seraj, Miti Shah, Kayla Jordan, Kate Blackburn, Ryan Boyd, Mohini Tellakat, Jamie Pennebaker, Ashwini Ashokkumar, Jamie's twin
---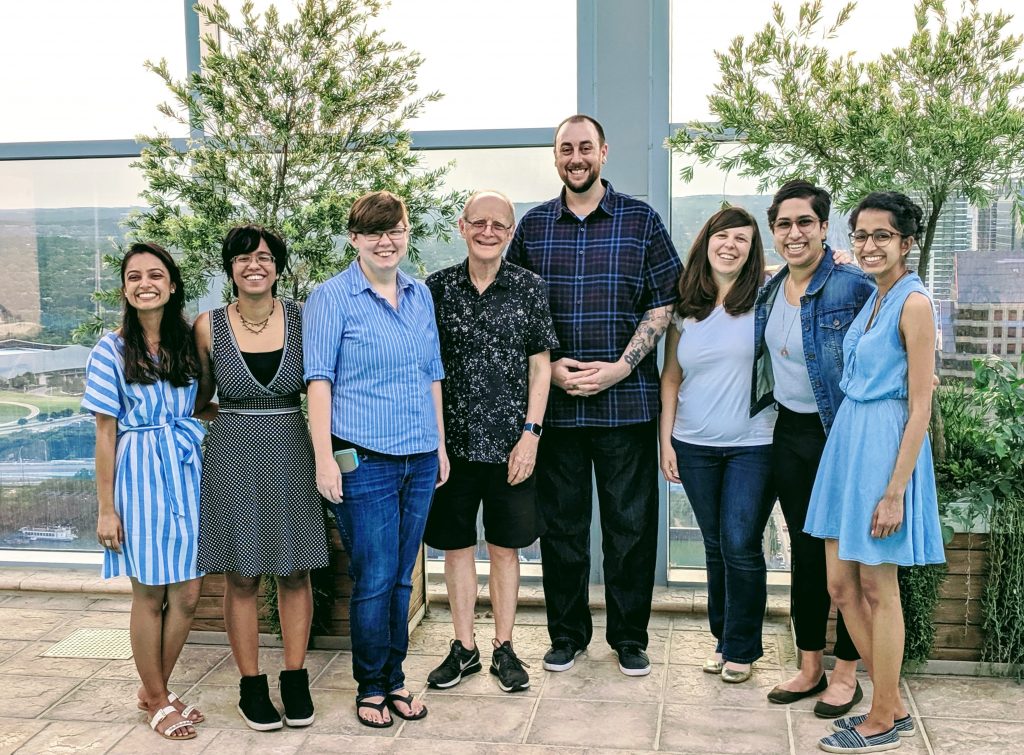 2019
L-R: Miti Shah, Sarah Seraj, Kayla Jordan, Jamie Pennebaker, Ryan Boyd, Kate Blackburn, Mohini Tellakat, Ashwini Ashokkumar
---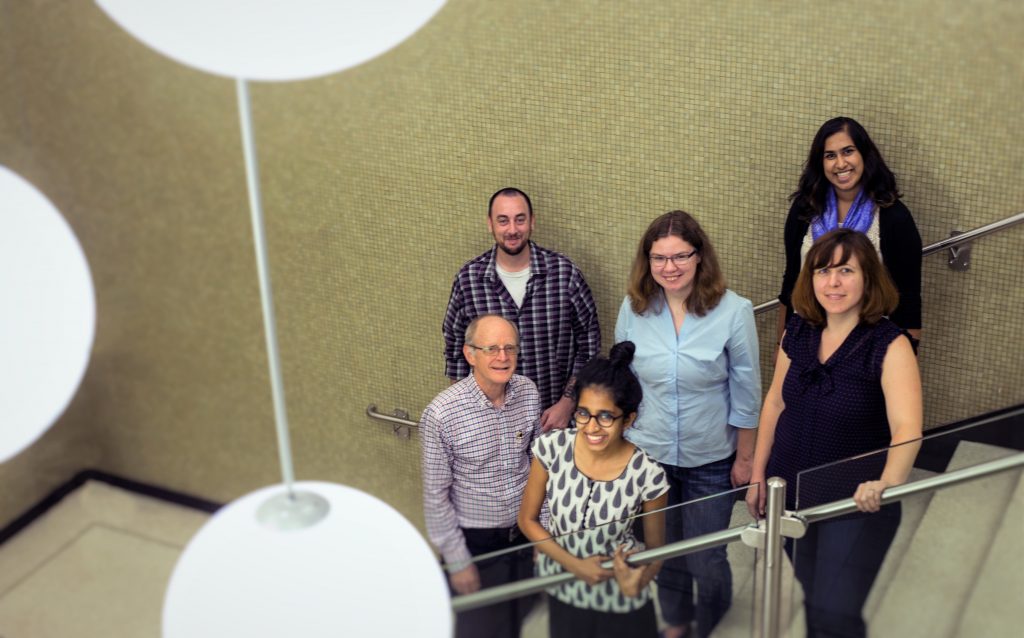 2016
---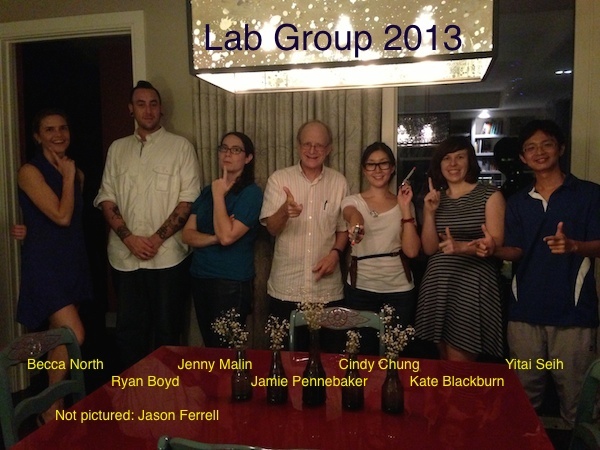 2013
---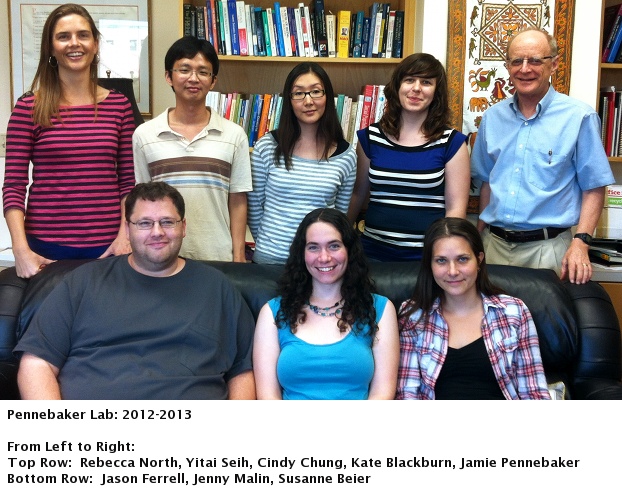 2012
---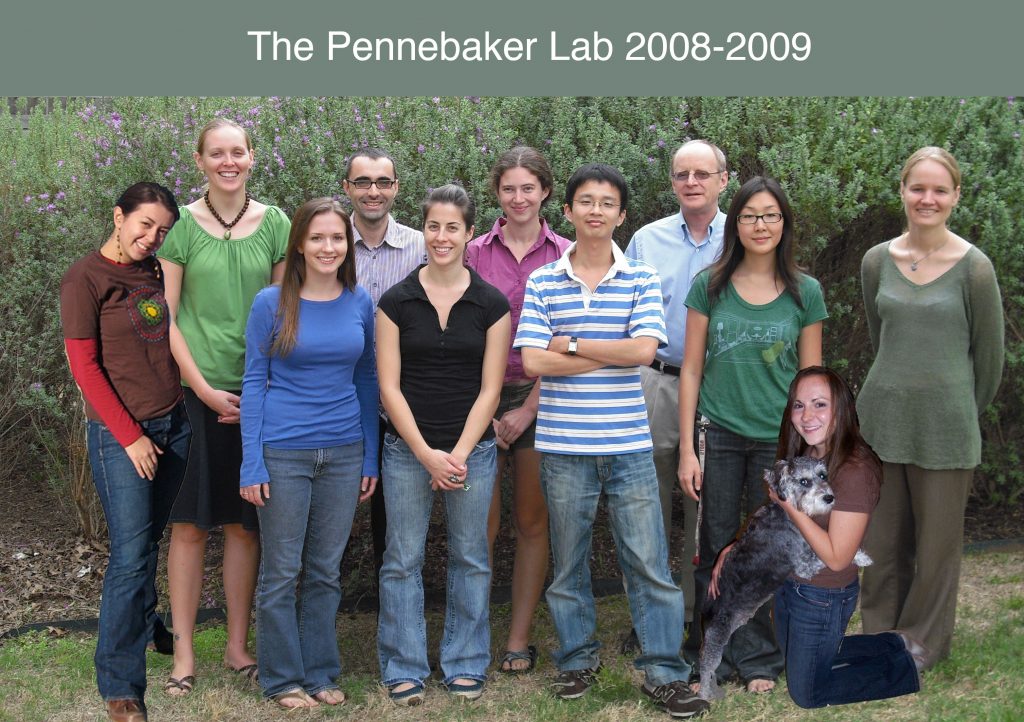 2008-2009
---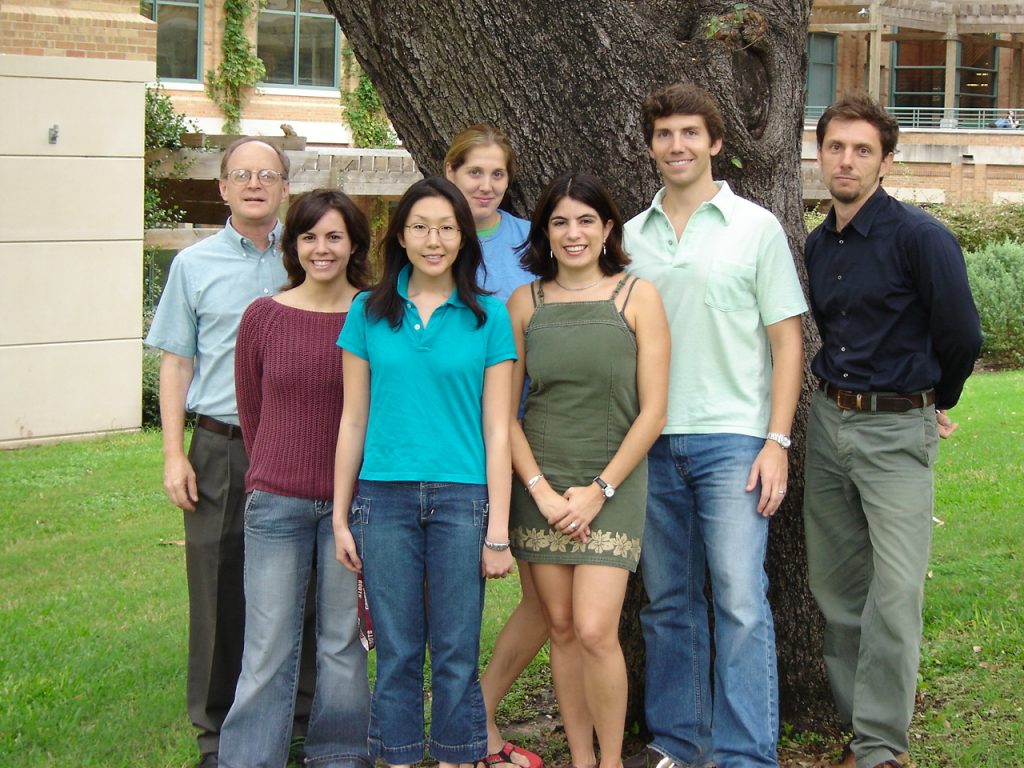 2004
---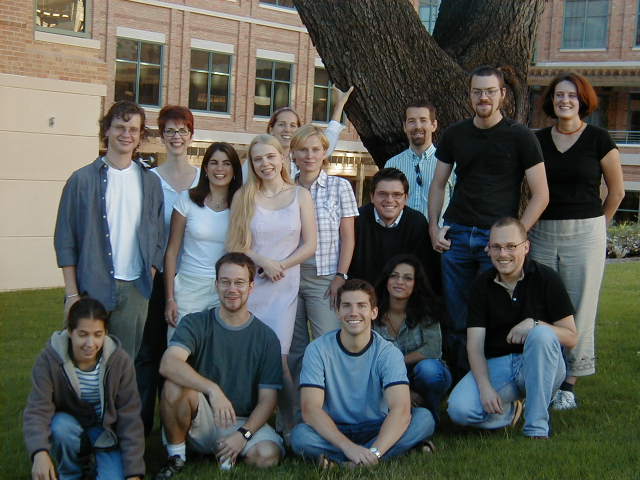 2002
---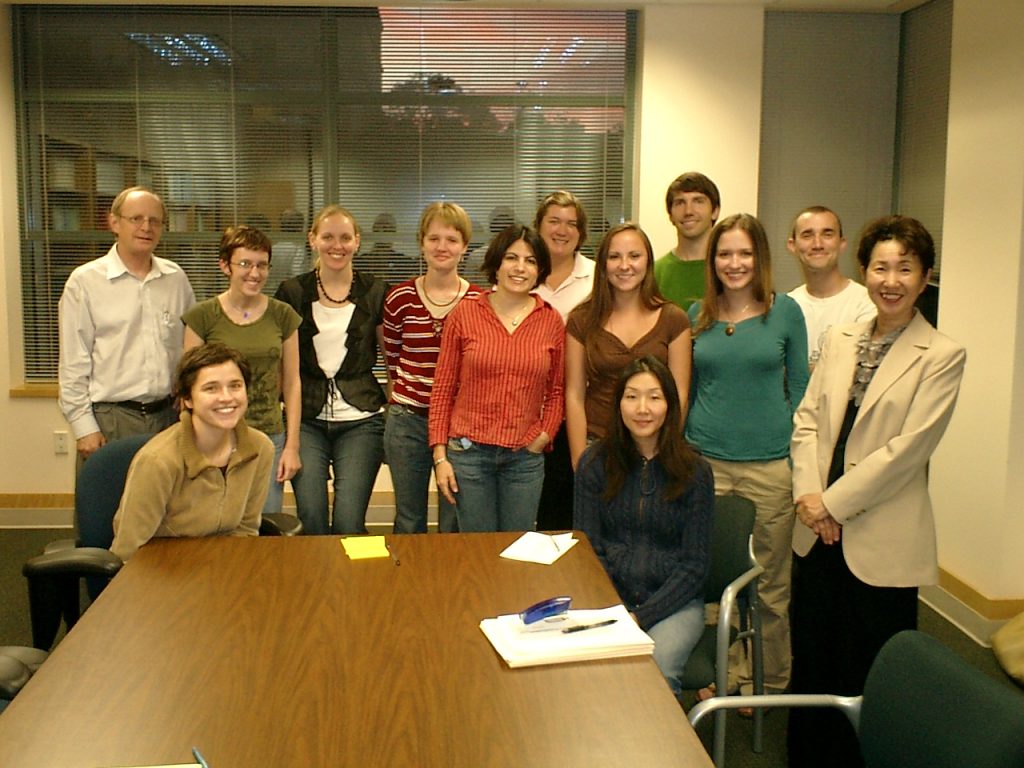 2001